Grant support
A reassuring grant support team.
Perhaps there are people who say that we have also applied for subsidies?
However, the perception may be different. "Subsidy" and "Subsidy" look like the same thing, but they are clearly different. Did you know this difference?
What is "subsidy"?
It is a system that is subsidized when certain standards are met.
The company can decide how to use it after receiving the grant.
What is "subsidy"?
You can only receive it after you have applied and passed (adopted) for review.
It must also be used for the intended use.
The web support is making good use of this subsidy and promoting subsidy support to "employ, nurture, and retain" employees.
When we talk about this, there are people who sometimes ask: "Can I get a grant first and then take the training?"
In conclusion, it can't be done.
This is because the grant must be submitted before implementation and an implementation report will be required after implementation.
What is important is the return on investment.
In Sakai, there are services such as "subsidized funds that actually cost 0 yen". In fact, some people seek to offset the grant amount and tuition fees.
However, web support has a slightly different perception. Originally, in such training projects, the return on investment is most important.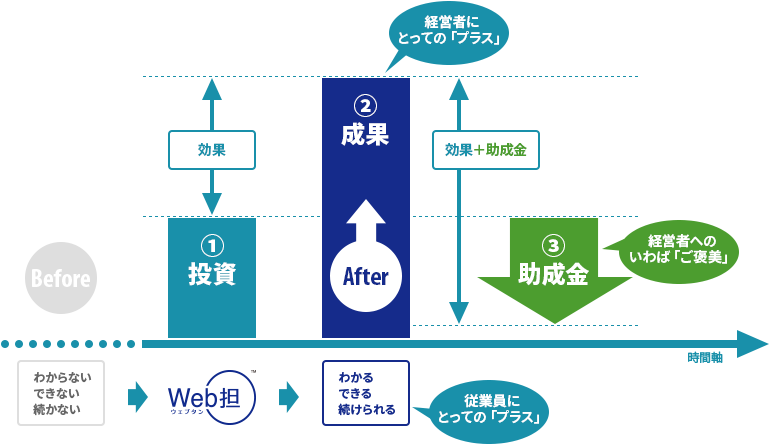 Improve sales and support with creatives created in-house
Customer creation value that diligent management creates and establishes its own fans
It is possible to greatly reduce the running cost required for Web operation
The investment in the creative team created by attending the web is an investment to create irreplaceable agility, planning and promotion. How much such results can be produced is the original value of the web.
The grant is like a little "reward" for managers who have invested time in their employees to achieve their original value and have created an environment where they can concentrate on their safety. By using the grants wisely and properly, the rewards will also bring the next investment in the company.
The details of the grant will be announced at the free briefing session .
Simple check to see if the grant can be used!
Appropriate participation in employment insurance and payment of insurance premiums


(A part of the company's share of employment insurance premiums paid by you and other companies is used as a financial resource for grants.)

Comply with labor-related laws and regulations


(Working hours, minimum wage, overtime payment, work rules notification (for companies with 10 or more employees), etc.)

Do not accept or receive illegal grants
* There are various other conditions. Details will be given at a free briefing session .
Subsidies that promote their use on the web
Human resources development support grant (for regular employees)
・ General training course ・ Career development support system introduction course (Introduction and implementation of self-career dock system, education and training leave system, etc.)
・ Vocational ability test system introduction course (Introduction and implementation of skill test pass bounty system and in-house test system)
Career Advancement Grant (for non-regular employees)
・ Human resource development course (to systematically carry out vocational training that meets the requirements)
・ Full-time employee course (To convert non-regular employees into full-time employees)