Web-based top "Unique Curriculum"
Web knowledge necessary for management is not good to learn normally ...
A company that can build a Web from a management perspective has produced results.
If you don't know your company and your customers, your web strategy won't start.
There is a way to create a "Successful Formula Success Model" using the Web.
The company that continues to try and operate Web operations is winning.
After all, companies that practice customer-oriented sales strategies will succeed.
There is a way to develop a website over the medium and long term with no cost.
In other words, is it important to know "XX"?
"Web-based top" is a short-term training for management to learn Web strategies that produce results and acquire their know-how.

Derive a sales strategy that fits your company.
8 + 2 lectures = 27 hours of training combined with workshops
30 minutes before lecture x 8 lecturer consultation + practice worksheet
10 original lecture texts
Now, the number of companies whose management has web knowledge is growing surprisingly.
We invite you to the first trial lecture limited to management for free .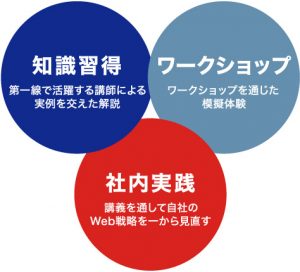 Click here for November and December dates!
The "Web Top" is currently recruiting students to start in November.
Training for 10 companies for each period only. Please contact us as soon as possible for consultation and application.
Please feel free to contact us if you have any requests such as: The schedule and training location will be adjusted by order.
December schedule
[1 lecture per day x 8 days pattern]
Second Lecture: 12/13 (Thursday) 9: 00 ~
3rd lecture: 12/20 (Thursday) 9: 00 ~
Lecture 4: 1/17 (Thursday) 9: 00-
Lecture 5: 1/24 (Thursday) 9: 00-
Lecture 6 *: 1/22 (Tue) 15: 00-
1/25 (Friday) 15: 00 ~
Lecture 7: Thursday, 1/31 9: 00-
Lecture 8: 2/7 (Thursday) 9: 00 ~
Lecture 9: 2/14 (Thu) 9: 00-
Lesson 10: 2/21 (Thursday) 9: 00 ~
* Attendance once on any schedule during the period