S Corporation (metal processing industry)

Mr. Kitajima and Mr. Hotta from Company S who completed the third term of training responded to this interview. A company that has been manufacturing plant equipment for over 60 years.
S Corporation
Web graduate 3rd graduate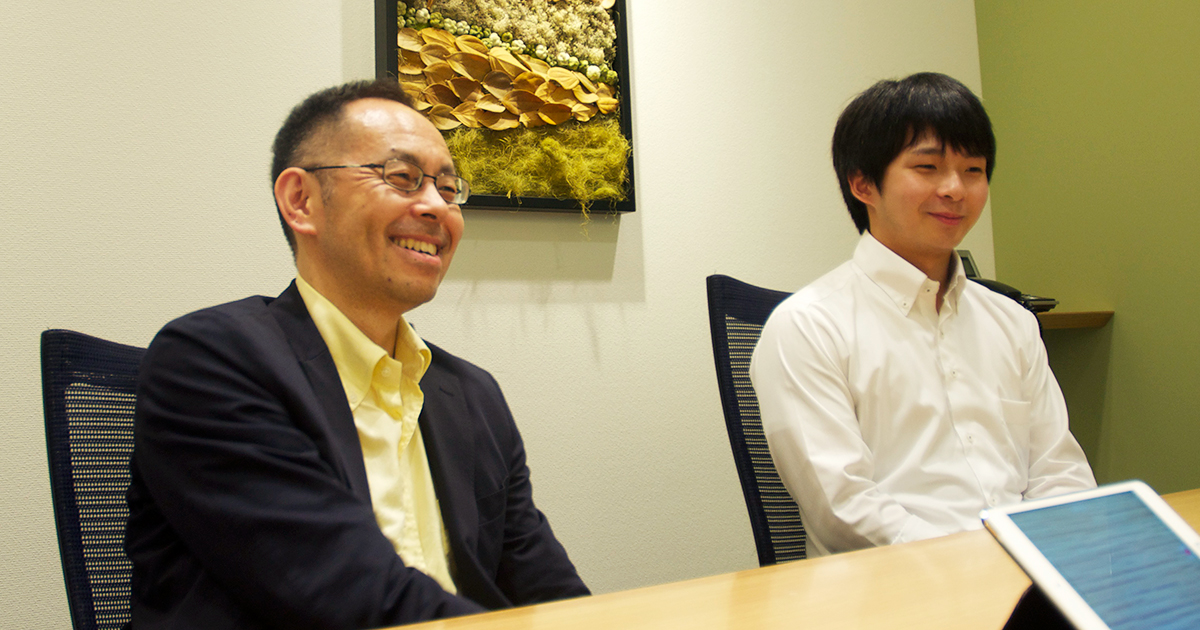 Web support (hereinafter referred to as "W"): First of all, can you tell us about the reasons you attended the Web service?
Mr. Kitajima (hereinafter, "North"): Actually, I was looking very much at my website. I wasn't putting much effort into it because it was a B to B company, but there was a problem with hiring. There is a story about this monitor attendance frame at the point where I wanted to manage the homepage because I was not able to recruit new graduates as I think it is a seller's market now. I decided to take the course because I thought this was absolutely worth it.
W: What kind of problems did you have when you attended the web?
Kita: First of all, there are no people in the company that can make them. Currently outsourced, but cannot be updated internally. I was worried about the speed because I had to ask the outside even for a small change, and I was talking that I should introduce WordPress in the future (so that I can update it internally). In addition to being able to operate the web support by themselves, it was also attractive that up to 3 students per company could attend.
W: What do you mean?
Kita: I felt that it was really difficult and difficult to talk about the web operation in the company with a common language. I think it's also valuable for a company that multiple people can learn and learn from specialists at the same time to have a common language.
W: So the "Web team" was born in the company.
Kita: That's right. Until now, I thought that if you spend money and let the professionals do it, you will be able to make something worthwhile and solve the problem, but I have renewed the recognition that it is absolutely different. If I didn't understand marketing, I realized that spending a lot of money won't help.
W: That is a big notice. Did you notice any other things through the training?
Mr. Hotta (Hori): Actually, I was a little bit of marketing at a commercial high school, but I didn't know any persona, so I started to study again from the beginning. I have learned a lot about techniques for using the Web to produce results. I could be confused with new things to learn, but I was eating somehow.
Kita: I learned for the first time about the flow of website construction, the way to put information into the wireframe, and the customer experience design. I haven't stuffed it in-house yet, but there are a lot of things that I have seen.
W: On the other hand, did you have any difficulties?
Kita: Because it is a B to B company, how many qualified owners are there in the company, and have enough permission for the construction method of the Electricity Business Law, it would be interesting to show you the technical part. I was thinking until then. However, in reality, it is not that you are interested in it alone.
Even if you want to put it as content, for example when you receive a compliment from a customer, you must first confirm the sales. However, I had given up the belief that it would have been decided to do so, and I gave up. It's very wasteful. In the future, I would like to actively include it as content.
W: Do you have any enthusiastic things about creating a website for hiring in the future?
Kita: We are planning to adopt a so-called landing page for the recruiting site. Even if people who are looking for employment visit, there is little information on the current homepage, and even the company cannot be known. I missed it completely. Since there is a target site, I hope I can include necessary information with reference to it.
Basically, I do the operation myself, and I leave it to the professionals when the first construction or major update is necessary. I think it's more persuasive if you tell yourself. Even if you ask a professional, I think that if you make it after clarifying each other's roles while communicating so that there is no mismatch, I think that it will be good.
W: Finally, what are your thoughts on the content of lectures on the web and the impression of the instructor?
Hori: I was very thankful that the instructor pulled out these questions and problems from the instructor instead of explaining the one-way street, and provided advice tailored to each company.
W: Thank you very much, Mr. Kitajima and Mr. Hotta!
Kita Hori: Thank you very much.